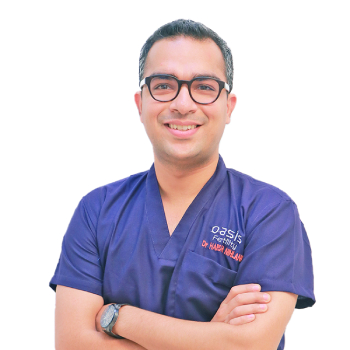 Dr. Harsh Nihlani
FERTILITY SPECIALIST
Brief info
Dr. Harsh Nihlani is an expert fertility specialist with rich experience in laparoscopic & hysteroscopic surgeries. He has helped many couples attain parenthood through his holistic approach and highly personalized fertility treatment options.
Dr. Harsh completed both his MBBS & MD in Obstetrics & Gynaecology from AIIMS, New Delhi, and did a fellowship in Minimally Invasive Gynecological Surgeries at Galaxy Care Laparoscopy Institute, Pune. He completed Diploma in Advanced Gynecological Endoscopic Surgeries in Kiel, Germany. Dr. Harsh completed his super-specialisation (MCh) in Reproductive Medicine and Surgery from Sri Ramachandra Medical College & Research Institute, Chennai. He has also done MBA in Hospital & Health Systems Management from BITS, Pilani. Dr Harsh has undergone training in Endoscopic Suturing at the Endoscopic Training Centre Antwerp (ETCA), Belgium. Dr Harsh Nihlani is passionate about research and has many research papers and presentations to his credit. A meritorious student throughout his academic years, he has won several scholarships as well.
Prior to Oasis Fertility, Dr. Harsh Nihlani worked as a Clinical Observer in Andrology & Male Reproductive Surgery at the University of Miami Health System, USA, and also worked as an observer in Krishna IVF at Vishakapatnam.